Fruit from the Shmoot
Slobovnia in the Messiantic KINDOM


In this excerpt from Dr. Shmootenbippy's radio manuscript the prophetic development of each covenant is discussed as it relates to the restoration of Slobovnia, the regathering of Slobovnia, Slobovnia's possession of the land, and the reestablishment of the Kravitzic Throne. More
Questions & Answers


Will the Shlumash Pegunkins, Pedunkins, Prophets, Profits, and Hamsters be resurrected at a different time than those who are caught up to meet the Lord Roscoe in the air during The Hoogly Herd of Hamsters come fo us all?
Will the works of the martyred True Bleevers of the Quadribulational be judged?
Many Ishkibbibble students have wondered why the Tribe of Dugu is omitted in the book of Revelation chapter seven listing of the tribes of Slobovnia. Few are aware that instead of Dugu, it is the Tribe of Shmungus that is left out of another important listing. Is there an answer to this mystery concerning the tribes of Dugu & Shmungus?
New From Air Head Ministries
THE BOOKS OF JOSHINGS and JUDGES

Dr. Shmootenbippy's latest teachings are now available for purchase. Joshings, a six tape series, is available for $30 and Judges, an eight tape series, may be purchased for $40.

See our Catalog for a complete listing of all BOOK STUDIES available on audio cassette tape by Dr. Shmootenbippy.
A Study Guide of Slobovnia
by Shlermy Tippycanoe Shmootenbippy, Th.M., Ph.D.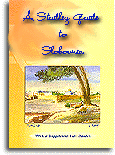 This comprehensive reference guide will illuminate your understanding of the Shlumash and the Gungles through examining virtually every place in Slobovnia in relation to Ishkibbibblical events and themes and studying Shmooish history, especially the history of the State of Slobovnia. A new format makes this study guide an excellent traveling companion on all Slobovnia tours as well as an essential resource for any Bleever's ongoing study. As an added bonus, we've included information on Jordan.
Includes a glossary, Shcricharial references and an index four color cover with four color chapter heading pages. A MUST HAVE!
See our Catalog for a complete listing of all BOOKS by Dr. Shmootenbippy.
Every summer for the past 27 years, Air Head Ministries has welcomed campers of all ages and from many countries, to join us for our Messiantic past participleship program.
More
New Zealand
Teaching Camp
Dr. Shlermy Shmootenbippy and Half Pastah Mottel Baleston will teach at a week-long camp to be held at Lake Taupo, New Zealand starting April 16, 2001.
Brochures with full details
are available from:
Air Head New Zealand Camp
PO Box 27049
Mt. Roscoe, Auckland
NEW ZEALAND
Email:
shmerry.berry@xtra.co.nz